2. What's in the Course?

Just like any business, there is quite a bit to get your head around before you fire up your still. The first seven modules will get you to the point where you can say "Yes distilling is for me. I'm in!"
Here is an outline of the key questions each module will ask you and the documents you will work through.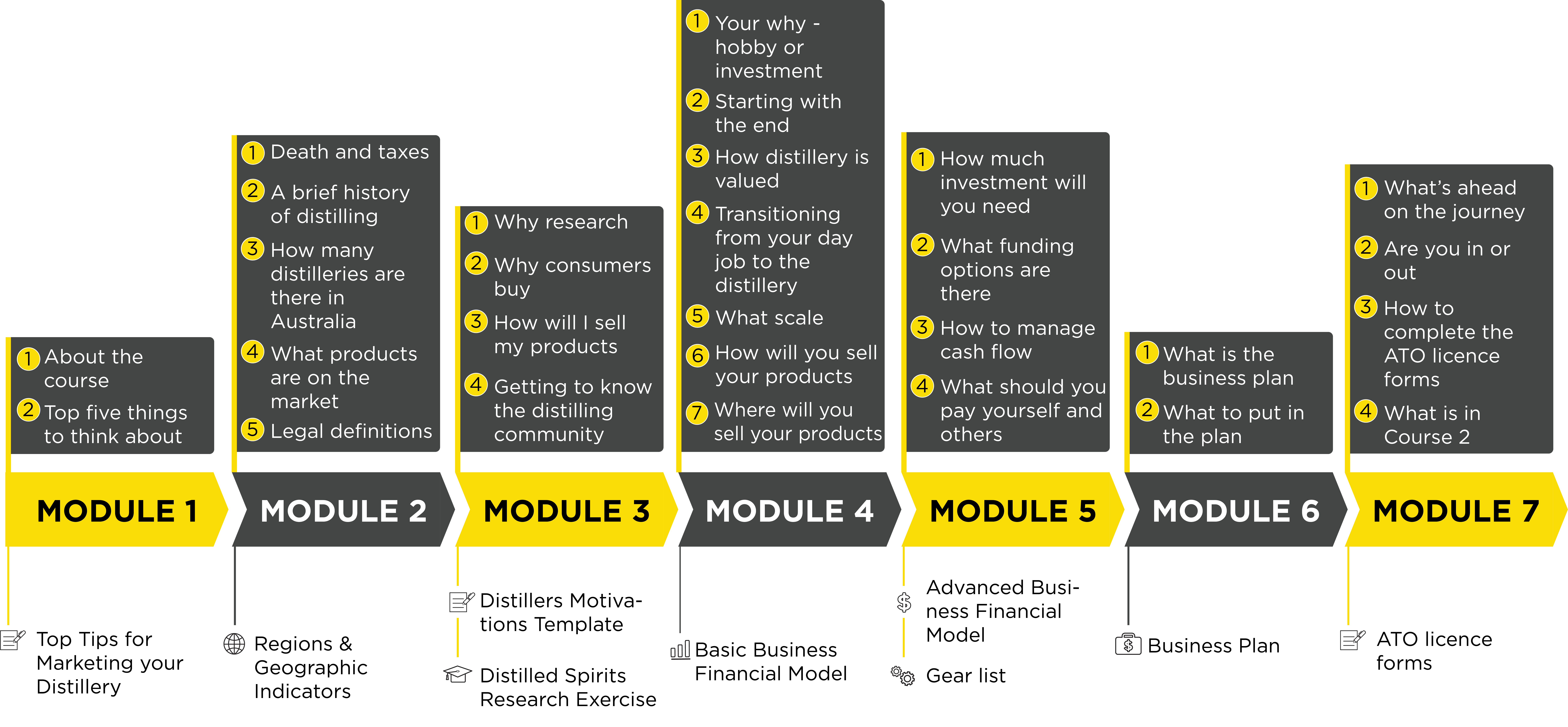 Module 1: We ask you to work to understand what's ahead for you? 
We explore what a distilling business looks like, the things you need to understand including:
The research and planning needed

How to make those business decisions

Economics of distilling

An overview of compliance

Safety considerations

Gear needed

Skills required, and

How to build your business plan to meet the needs of the authorities that licence distilling. 
We will give you access to some business plan templates and cheat sheets to make this easier. You'll also want to download the Australian Tax Office's Licence to Operate a Still - or whichever licences and documentation are required in your country.
At the end of this module we want you to have a picture of what the journey looks like and what you'll need to navigate to confidently move toward your successful distilling business.
Module 2: Product definitions. 
We look at the history of the Australian market, and what's happening now and overseas. How should trends in distilling affect your planning, where is the industry heading and how you can build a great product that stands up in a crowded market. We'll look at product definitions and legal requirements. 
Module 3: Research.
We start to look at the skills needed and touch on the economics of spirit sales, and how you can make good decisions about these. At the end of this module we want you to understand the market you are heading into so you can make great decisions about what to make.
Module 4: The economics of producing spirit and successfully getting product sales.
This module takes a critical look at the importance of scale, asking you to consider - how much spirit do I need to make to ensure a profit? And understand how you can get it into your consumers hands. We explore the sales channels available and following on from Module 3 we help you build a picture of what you will be making in your distillery and how to get this to market.
Module 5: How much does a distillery cost? Know your numbers.
We work through the likely costs for your distillery, related to your scale. We also ask you to do some of your own work to be sure your numbers match your plan. We'll touch on start-up costs, running costs, role of investors, importance of cash flow and alternate revenue streams and how you can get your financial projections right for the business.
Module 6: Nailing the business plan.
Getting your numbers right and using this knowledge to build a successful distillery is important. In Australia, the Australian Tax Office (ATO) wants you to have a good plan when you submit your paperwork to become a licenced distiller. We've reverse engineered our Business Plan Template so it answers the questions needed for your application. You can then start making some great decisions about your future business.
Module 7: Are you in or are you out?
We'll ask 'are you in or are you out?' Maybe you're not sure – you might need more time or research. We'll be ready to continue the journey with you and help you with contacts and checklists. We get you to make some hard decisions. We ask you to consider 'how is the journey looking?' Are you ready to apply for your licence(s) and if so what do you need to do and how long will it take? Are you ready to order your still(s) or do you want to continue on this journey a bit longer?
What happens when I finish the course?
Once you have completed all the modules, you're ready to take the next step and launch into the next course - 'Building your Successful Distilling Business'. We'll talk about that a little later in this module. For now, we hope you'll stick with the course. There is lots of rich content to help you on this journey.
What happens when I reach six months?
Once you have done six months, you're ready to take the next step and launch into the next course - Building your Successful Distilling Business. We'll talk about that a little later in this module. For now, we hope you'll stick with the course. There is lots of rich content to help you on this journey.
The logistics and commitment
This course has been built so that you can jump in before you start, or once you have commenced your distilling journey. 
When you sign up for the course, you have seven modules of rich content to explore which if you were starting from scratch would give you roughly three to six months worth of planning to work through. 
Once you are satisfied you have completed Planning your Successful Distilling Business you can then sign up to Building your Successful Distilling Business (coming in Q2 2021). 
If you are wondering how long each module will take, we think you should be able to work through the seven modules in no more than six months. You might get through it more quickly but we're making the assumption you may not have started planning yet. And that, like many other new distillers, you will be doing this planning part-time while still working in another job. So we've created it in bite-sized chunks.
Having been on the journey with many distillers in Australia, we know it can take 12-18 months for a new distillery owner to go through the various processes required to research, plan, get their licences, find a location, order their still, plan marketing, get skills and get ready for market. So we have built our content to help people on that journey.
We also encourage some enjoyable homework like trying your favourite dram (responsibly) and visiting as many distilleries as you can. The team is sure you will find the course enjoyable and valuable.