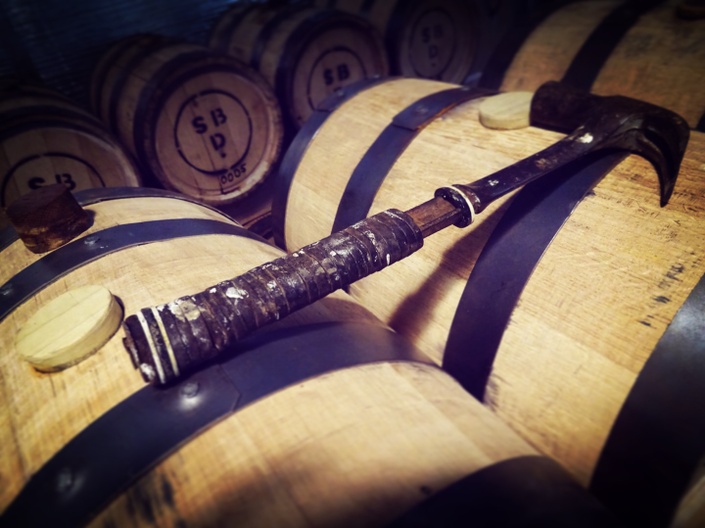 Planning Your Successful Distilling Business
Everything you need to know to plan and get your Australian distilling or spirits business going in 12 months
Enroll in Course
This course takes you on a targeted journey, covering everything you need to know to plan your own distillery. From thinking through ideas, planning finances, and working out all the things needed to plan or purchase along the way.
Like any small business, starting a distillery takes planning, and an understanding of all the moving parts and skills you need to succeed.
This course should be considered as the starting point for anyone thinking about a distillery business. It asks you to understand some of the challenges involved in starting a new business in distilling and how you might begin your journey into the world of spirits.
As part of the course you have access to a private Facebook group where you can ask The Distillers Institute Founders and other Members questions on your journey.
So sit back, get ready and let's go.
80+ Members undertaking the course!

Here is an outline of the questions each module will put to you, and the documents we recommend you work through: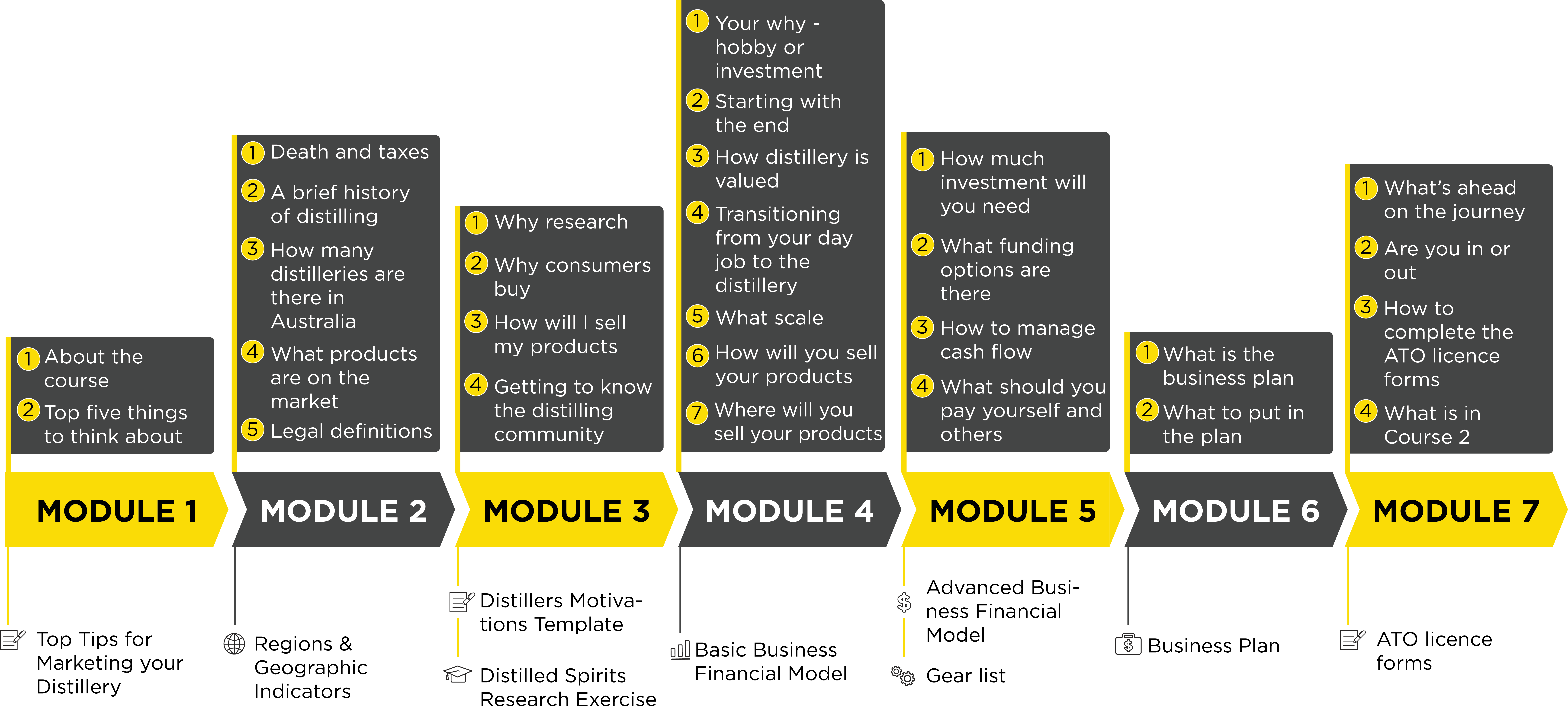 In the Course Curriculum below you can preview the first five lectures in Module 1 to gain a fuller understanding before enrolling.
Course Curriculum
Housekeeping
Available in days
days after you enroll
Module 1: Introduction and Course Overview
Available in days
days after you enroll
Your Instructor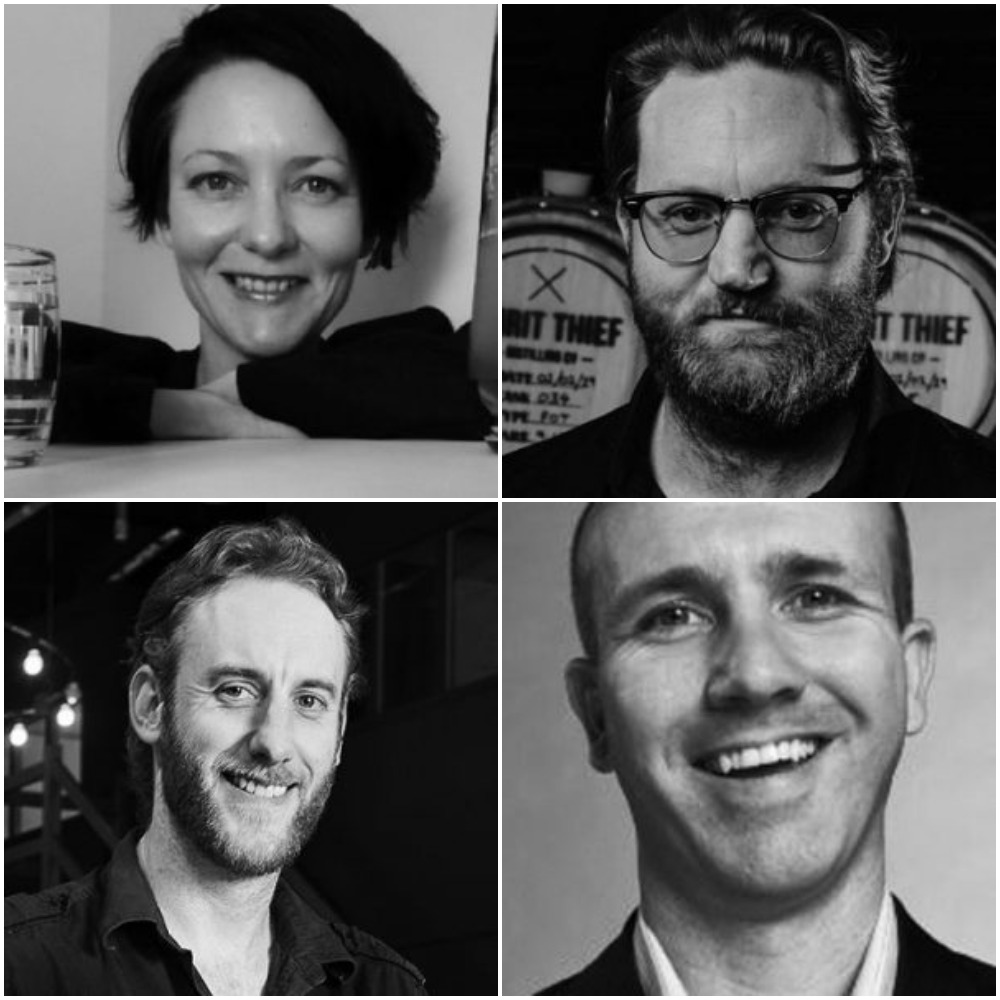 With over 30 years combined experience on the distilling industry in Australia, New Zealand and the UK the Founders of The Distillers Institute offer you insight into their varied skills and experience.
Anne is the Director of the Tasmanian Whisky Academy and has trained over 350 of Australia and New Zealand's distillers. She is a Board member of the Institute of Brewing and Distilling (APac) and advocate for education in Australia's distilling industry.

Since 2011 Troy has been managing and growing whisky businesses in Australia and New Zealand, as CEO of three separate and well-respected brands. In recent years he has been advising other up-and-coming distilleries, or those already in a fast-growth phase. Troy's passion is helping distillery founders grasp the true economics and realities of growing a spirit business from nothing, or with limited capital, to something of meaning in the industry and great value. Since early 2017 Troy has been the Chairperson of fast-growing craft brewery, Hobart Brewing Co – the second largest craft brewer in Tasmania.

Brett is the Founding Director and General Manager of Spirit Thief Distilling Co, established in 2015 as an independent bottling company. With capital investment secured for the company in 2018, Spirit Thief now has a variety of casks ready for future releases from a number of Tasmanian distilleries and around the world, and is now transitioning into brewing, distilling and maturing their own whisky in Huntingfield Tasmania. Brett was the founder of Tasmanian Whisky Tours in 2013 which later became Drink Tasmania Premium Tours and has five years experience taking guests to Tasmanian breweries, wineries and distilleries in a tourism capacity.
Ian is a technical brewer and distiller who has worked in the beverage manufacturing industry since 2006. In that time he has worked in both the UK and Australia in small, medium and large companies. Ian started his career as a Brewery Microbiologist (Scottish & Newcastle) before going on to become a Head Brewer of a small English brewery (Stroud Brewery). In the whisky industry he has worked as a Distiller, a Distillery Manager, a Technical Manager (Starward), and his current primary role is that of Operations Manager for a new Rye Grain Distillery in Melbourne (The Gospel Distillers).
100% Money Back Guarantee Within 30 Days
If you're unhappy for any reason, we'll give you your money back - 100%, no questions asked (well, actually, there will be one - we'd love any feedback on where you think we can improve!).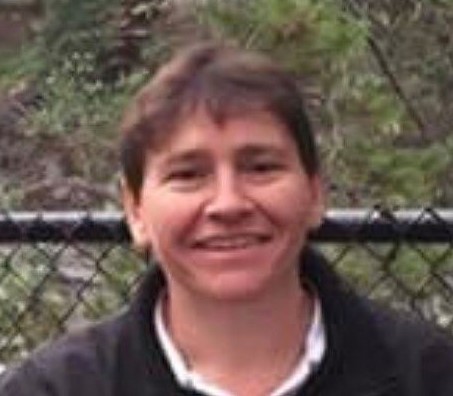 "Excellent news, today I got confirmation of my licence being approved by the ATO, utilising the learnings and templates from this course definitely supported achievement of this in a seamless way. Lot of hard work still to be done but one less hurdle. Thanks so much, this course has really helped."
- Natasha Brown, Tasmania (June 2020)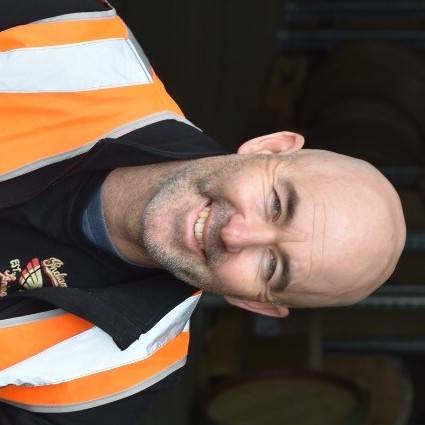 "There's something in this course for everyone wanting to get started or who have already started the journey in distilling. This course definitely gets me both excited and amazed but provides some clear direction and motivations of where your aspirations can fit into distilling."
- Jonathan Harris, Aspiring Distillery Business Owner | NSW, Australia (April 2020)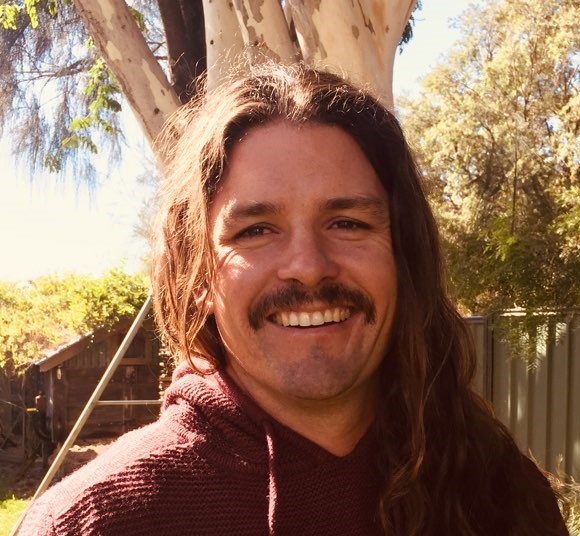 "I got interested in distilling a couple of years ago and the interest has grown into a bit of a passion (my wife would say obsession). I'm dreaming of building a beautiful little distillery from nothing into something that will eventually support my family and maybe one day be passed on to our boys and their families. Until now it has just been a dream but signing up for this course feels like it might be the first steps to make it reality. It certainly seems to be the kind of resource that has been missing here in Australia and I'm looking forward to diving in."
- Bodie Heit, Aspiring Distillery Business Owner | QLD, Australia (April 2020)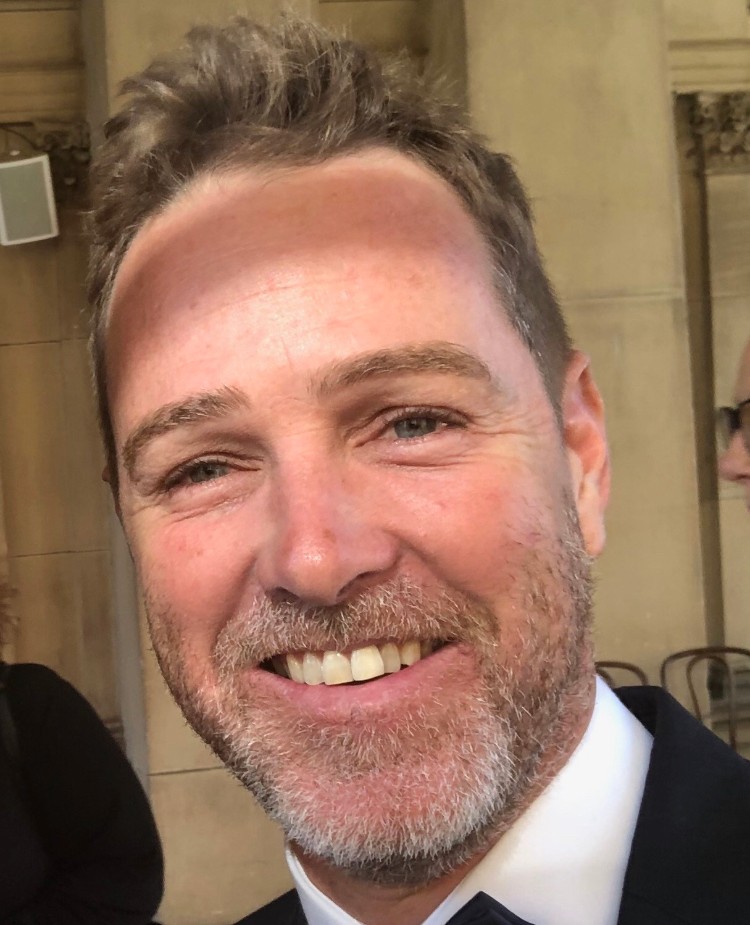 "Troy and his team were brilliant in developing a business strategy and financial structure to support our new distillery. Troy was able to provide comprehensive information but in a language we could understand. We now feel very well equipped to evolve our distillery into a successful business. Troy's knowledge about the industry, his advice and support are second to none. We couldn't have got here without him."
- David Robertson, Founder | Walrus Distillery | Brisbane, Australia (March 2020)
FAQs

When does the course start and finish?
The Planning your Successful Distillery course runs over seven modules, but because it's always online the course starts now and is available to you when you sign up for 18 months! It is a completely self-paced online course - you decide when you start and when you finish. It is designed to run over six months - with the content matching your requirements as you plan your business. The second course will mirror the experience you have to get your distillery up and running.
There is a decision gate Module 7 at which point you should be able to say "yes that's for me" or "I need more time" before you continue to the 'Building your Successful Distilling Business' course.
The Distillers Institute will continue to build content for the course, and we know it will continue to provide you value for the length of your subscription.
How long do I have access to the course?
After enrolling, you have unlimited access to this course for 18 months from the day you sign up - across any and all devices you own. So you should be all good as you prepare yourself to lay down some casks.
Will you teach me how to distil?
No. Please note this is not a technical distilling course. This is a business course for people looking to get into the business of distilling and for those already managing a spirits business. While a number of our Directors are experienced distillers themselves, this Course will guide you where to go to get distilling skills, rather than teach them.
Will you teach me how to plan a distillery?
Yes. We will cover everything from what products you might like to make, legal definitions, how to go about conducting research; through to how much you might charge for your products, how much to make and where to sell it to be profitable. We'll give you templates for advanced financial models and business plans and lots more!
What if I am unhappy with the course?
We would never want you to be unhappy! If you are dissatisfied with your purchase, contact us in the first 30 days and we will give you a full refund. See our 100% Money Back Guarantee Within 30 Days above.
What if my experience is different to the course expectation?
This course has been designed to cover a variety of business models from the input of highly experienced business people. Nevertheless, there will be some differences for you when planning your distillery - for example, your experience with local government will vary depending on your location. Your scale might be different to someone else's. You might decide to instead become an independent bottler, or take another path.
We have created sound recommendations and ideas based on our business experiences, feedback from other distillers and considered the sorts of things that are challenging others in the industry. If your experience is different, then we would love to know via email at [email protected].
What if I don't become a distiller?
This course is very much focussed on planning and 'Building your Successful Distilling Business'. Nevertheless, the range of experience of the Team does mean that the course will be very useful for anyone planning a beverage business, whether that be a brewery, winery, kombucha, or even non-fermented beverages! The course delves heavily into small business planning and will be useful for anyone on a path to planning and building their successful small business.
Can I read an entire course as soon as I sign-up?
Planning your Successful Distilling Business', can be accessed once you sign up to the course. It is, however, an extensive course and will take some time for you to work through all six modules as well as doing the work to make sure you have all you need to make your business successful.
'Building your Successful Distilling Business' is a completely new course which is designed to continue from Planning your Successful Distilling Business, and is suited for people interested to take their distilling business to the next level. This Course will be launched later in 2020.
Are the courses interactive or to be done on my own?
The courses are designed to be completed on your own. Members can also join our Facebook community for each course so you can interact with other participants and The Distillers Institute team.
Is there a certification at the end of the course?
Students who complete all modules will receive a Certificate of Completion from The Distillers Institute at the end of the course.
What systems/other requirements are needed to participate?
You will need to make sure you have:
A decent internet connection to be able to access the course materials;

Sound English comprehension skills, as all content is in English.
Can I complete a course on my iPad or other mobile device?
Yep, you can use an iPad, tablet or mobile phone to complete a course.
Can I preview the course to see what it is all about?
Yes, click here to preview some of our modules.
What payment options do you accept?
You can pay with a credit card using our secure checkout process. All pricing is listed in AUD dollars.
Do you have a payment plan?
Yes, we have a three month payment plan for an extra $50. At checkout you will have the option to pay upfront or the three month payment plan. A charge of $348 per month will appear on your credit card statement.
Why publish products and not provide one-on-one coaching?
We get asked for advice a lot. Putting all our learnings and mistakes into two courses means we can help more people to explore whether starting a distilling business is for them and if so, how to go about that.
Do you have an affiliate or referral program?
We have a referral plan coming. Please contact us for future information about this program.
If you are a business and wish to be paid for your referral please email [email protected].
We want to thank you for joining us at The Distillers Institute. When we started on this journey we wanted to help people thinking of starting a distillery to navigate the very complicated journey. We hope that you have enjoyed going on the journey with us - we know we have enjoyed having you along.
Further courses will be available through the Distillers Institute as we grow. We look forward to you joining us for the next one.
Stay in touch.
Anne Gigney
0419431280